What is Saxenda?
Saxenda is a relatively new weight-loss medication, which is available in the form of injection pens. This fat fighter was approved by the national medicines watchdog (the Therapeutic Goods Association) to assist with combating excess bodyweight in 2016.
We've delved into the finer details about Saxenda here and best ways to purchase it online legally and reliably. Have a squiz at the following to uncover more detailed info!
How It Works?
The Definition for Dummies
Saxenda works by convincing a person that they're full. Liraglutide mimics the activity of natural substance GLP-1 (​​glucagon-like peptide-1), which is released in the body after having large meals. Its release leads to suppression of appetite. As a result, patients do not want to eat too much.
The Scholar's Definition
Liraglutide is an analog of GLP-1 glucagon-like peptide-1 with 97% similarity (homology) [1]. It stimulates insulin secretion, reduces glucagon concentrations in plasma, delays emptying of the stomach, suppresses appetite through neural pathways, as well as decreases synthesis of glucose by the liver [2].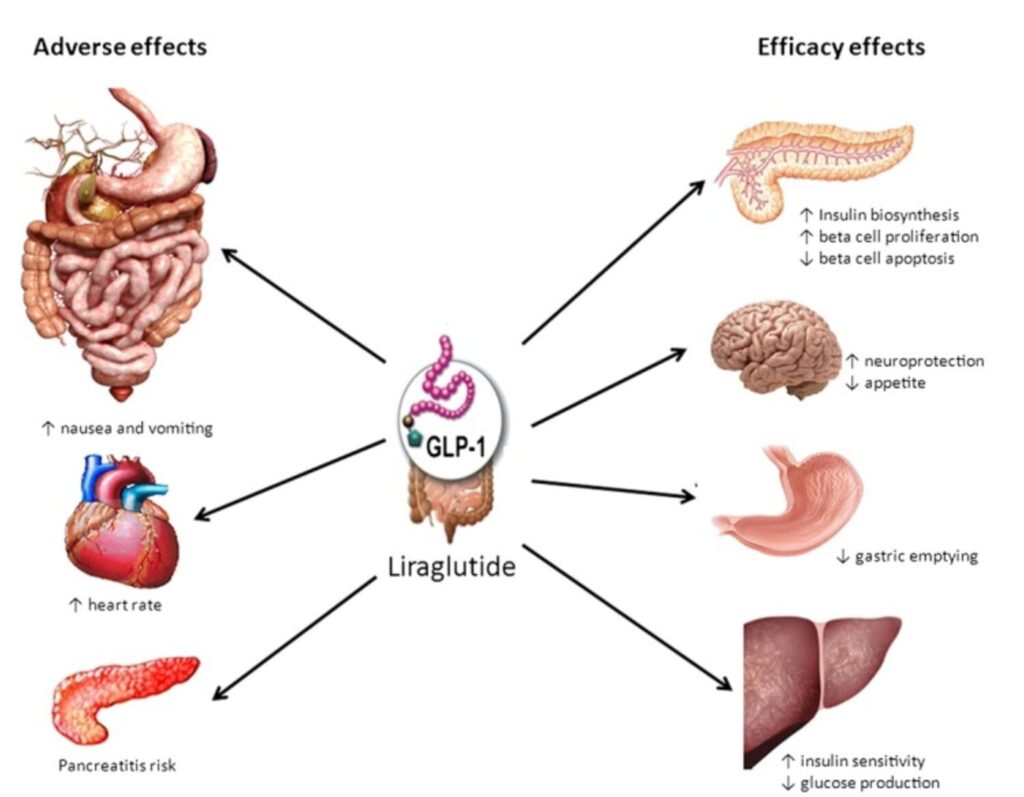 Using Saxenda for Weight Loss
Saxenda is administered on an everyday basis and should be used in conjunction with dietary changes (healthy nutrition) and regular physical exercises. It will not work immediately, people usually start to notice effects within 1-3 days of using the medication.
Make the injection every day, approximately at the same time (which will be the most convenient for you), regardless of food intake. To do a shot, prepare the pen, pinch the skin with the fatty layer, and push the needle all the way at a straight degree (90º angle).
For better understanding see the image below (however, it, of course, should not be treated as a substitute for a professional medical consultation).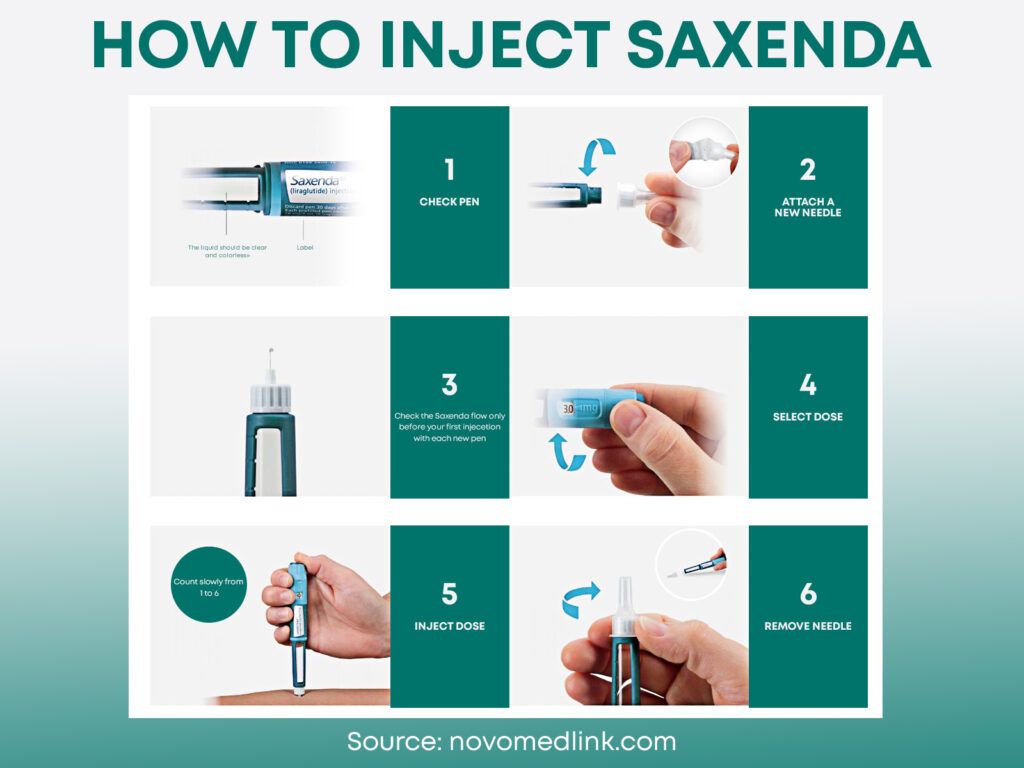 Where to Inject It?
The medicine should be injected subcutaneously (into the fatty layer right under the skin). It is strictly prohibited to make intravenous or intramuscular shots.
Body areas which are recommended as injection sites include:
abdominal area;
upper leg (thigh);
upper arm.
How Much to Inject?
The therapy should start with the lowest dose which should gradually increase with time.
For beginners, the starting dose is 0.6 g daily. Such a dose should be used for at least one week.
A healthcare professional will instruct you about gradual dosage increment. As a rule, the schedule shown in the table below is observed.
| | |
| --- | --- |
| Week | Dosage (in mg, per day) |
| 1st | 0.6 |
| 2nd | 1.2 |
| 3rd | 1.8 |
| 4th | 2.4 |
| 5th and following weeks | 3.0 |
What is the Program for Saxenda?
There is SaxendaCare website which has been specifically developed for Australian patients who have been prescribed this medicine, as well as for their doctors. This user-friendly step-by-step program features the following:
tips on enjoyable activities;
advice on weight loss;
injection pen training;
ability for synchronisation with popular fitness trackers, and much more.

What is the Cost of Saxenda in Australia in 2022 and 2023?
Cost of Saxenda in Australian pharmacies depends on a particular chemist and quantity of pens per package. When it comes to online drugstores, they can offer the medicine along with issuing prescriptions and delivery. Hence, the price will be higher, however, a patient receives a convenient "turnkey" service. In such a case, the cost starts from AUD 599.00.
How to Get Saxenda for Free in Australia?
Unfortunately, it is currently not subsidised by the PBS. So you cannot get compensation for it to reduce the cost or receive the medicine for free.
Buy Saxenda Online in Australia Quickly and Reliably
Digitalisation has greatly impacted pharmaceutical business and nowadays many medications can be offered via the internet. Hassle-free online ordering is available. Saxenda, as well as other weight loss promoters, can be bought online after undergoing a digital medical consultation.
It doesn't matter where you live in Australia – the healthcare service is available for everyone. Whether you're in remote Marble Bar, Western Australia, or the CBD ofMelbourne, you can get the needed parcel delivered to your door within 1-2 business days.
So not only can you buy necessary medications from anywhere, but you can order from home while sitting on the couch watching TV. Sounds pretty neat, right?
Where is the Cheapest Place to Order Saxenda?
Saxenda is not too cheap. However, one can order it conveniently. If one offers you "the cheapest price" with no prescription, what will be an illegal deal with a suspicious seller.
Online Prescription for Saxenda from an Australian doctor
Duly registered suppliers offer only finest quality medicines.
The process of buying medicines is as follows:
Start an online consultation (as a guest or registered user).
Fill in a special healthcare questionnaire which contains questions regarding your age, blood pressure, medical history, weight loss efforts, daily calorie consumption, etc.
The filled questionnaire will be transferred to a prescribing physician.
Once payment has been finalised and order has been approved by a doctor (it can be declined if the specialists considers that a treatment would be unsafe and/or inappropriate for you), the team of the service will work to dispatch the order at breakneck speed.
Buying through the digital service is unbelievably easy. Honestly, five short minutes is all you need to complete a preliminary application to make your potential purchase. Anyway, if you have some difficulties, the healthcare service team can walk you through your order. They retail a broad suite of most-demanding medications.
It is important! Avoid over-the-counter offers of Saxenda, as you can do significant harm to your precious health. Vendors offering prescription medicines as OTC ones can sell impure substances that are cut with potentially toxic or harmful ingredients.
Can you get Saxenda from the Chemist Warehouse?
Yes, but you need to follow this procedure:
selecting the relevant prescription;
adding the product into shopping cart;
make a payment online;
post your valid prescription to a specified postal address;
then the item will be shipped.
A viable alternative is described above, as the 'turnkey" healthcare service allows one to receive a medical consultation, a digital prescription, and delivery of the medicine within the framework of a single online procedure.
Alternatives to Saxenda
Alternatives to Saxenda include:
Wegovy (injectable pens);
Mysimba pills;
Duromine tablets;
Xenical and Orlistat (Prolistat) pills.
Contrave vs Saxenda
In European countries this medication is named Mysimba. It contains two components: bupropion and naltrexone. It is sold in the form of pills and works by targeting CNS pathways responsible for food consumption and feeling of hunger.
Ozempic vs Saxenda
Ozempic contains semaglutide, while Saxenda is a liraglutide-based preparation. These are both GLP-1 receptor agonists and are intended for subcutaneous use.
Which medicine is better for weight loss? Actually, Ozempic is a diabetes medication, it is not prescribed for fighting excess kilos. However, medical regulators recently approved Wegovy, another semaglutide-containing medication, which is indicated for chronic weight management.
There is also a difference in frequency of making injections:
Saxenda: daily;
Ozempic/Wegovy: weekly.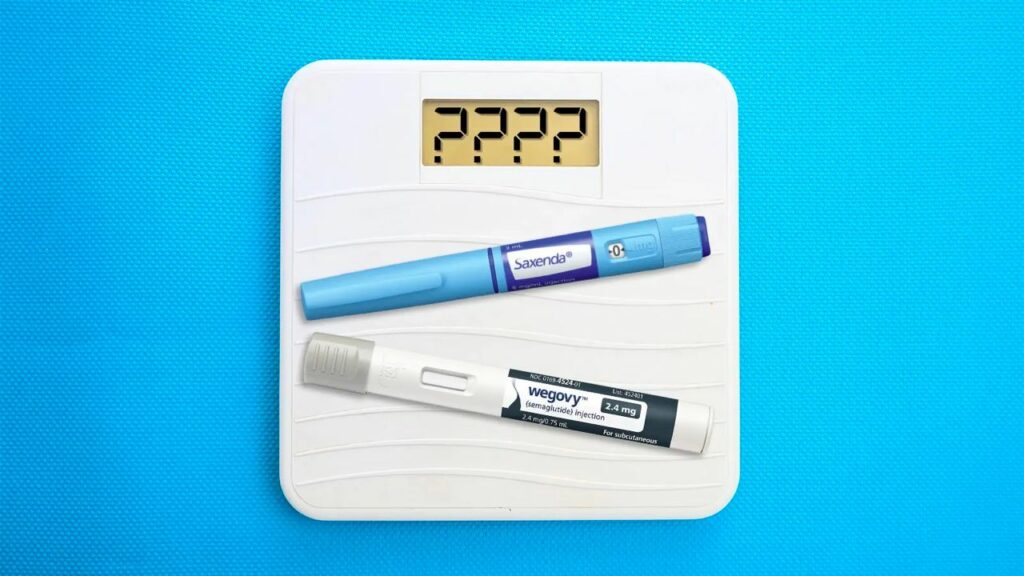 Duromine vs Saxenda
Duromine (phentermine) is an oral appetite suppressant. From a chemical point of view (according to Wikipedia), this substance is a substituted amphetamine. This is not a first choice for facilitating weight loss, because its use is associated with some unpleasant side effects and abuse potential. Saxenda is not a dependency-causing medicine, and it seems to have a better safety profile.
Cheaper Natural Alternatives to Saxenda
There are tons of herbal supplements marketed as effective weight loss remedies. However, they actually have mild or placebo effect, despite a cheaper price when compared to prescription medicines.
Side Effects of the Medication
Like most medicines, Saxenda can react negatively with other substances. Speak with your general practitioner about this to ensure anything you're currently using will not interact negatively with liraglutide.
Side effects of Saxenda
Very common (incidence more than 10%)*
Common (up to 10%)
Uncommon (up to 1%)
Rare (up to 0.1%)
Nausea
Vomiting
Headaches
Diarrhoea
Being constipated
Different problems affecting stomach and intestine, such as dyspepsia and gastritis
Taste alterations
Weakness or tiredness
Sleeping problems
Lowered blood sugarInjection site reactions
Elevation of pancreatic enzymes' levels
Gallstone formation
Dehydration
Delayed emptying of the stomach
Cholecystitis (gallbladder inflammation)
AllergyIncreased heartbeat
Malaise
Low kidney function
Acute kidney injury
*These side effects (which are mentioned in the first column) are usually transient and disappear on their own within a few days/weeks.
Interactions with Other Medications
Liraglitude may interact with:
paracetamol (acetaminophen);
atorvastatin
digoxin;
griseofulvin;
lisinopril;
oral contraceptives (ethinylestradiol, levonorgestrel).
But these interactions are usually clinically insignificant, except for warfarin, for example, so patients taking this medicine should be more regularly monitored to check International Normalised Ratio (INR), a laboratory test used to determine the effects of oral blood thinners they take.
Patients who are suffering from concomitant diabetes type II should not use this pharmaceutical product along with other GLP-1 receptor agonists, such as dulaglutide, semaglutide, and exenatide.
In addition, a small delay of stomach emptying may marginally affect the rate of absorption of oral medications. Nonetheless, dosage adjustment of such medications is not required.
Can You Drink Alcohol?
The answer to this question is very cautious yes, as the leaflet does not contain info about interactions with alcoholic drinks. However, people taking this medicine are usually advised to limit booze consumption. In particular, that's because Saxenda and alcohol (when used excessively) have similar side effects, such as nausea and vomiting.
Talk to your doctor if you are planning to drink alcohol while on liraglutide. This may affect your blood glucose levels.
It's also important to remember that alcohol contains many calories – 7 kcal per gram – almost catching up with fat in terms of calories (9 kcal). These calories are "empty", which means that they don't have nutritional value. When you are on a calorie-restricted diet, it is much better to eat something healthy.
Just for your information: protein and carbs contain 4 calories per gram.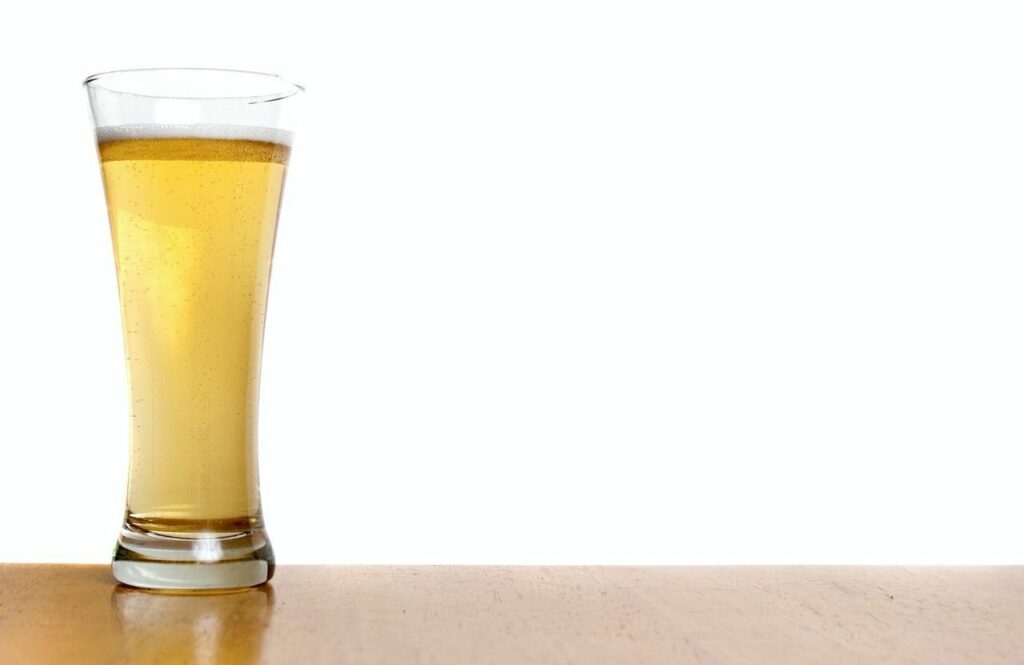 Warnings and Precautions
The medicine should not be used by pregnant women.
The same applies to lactating mothers.
The medicine has no (or almost no) influence on driving ability, however, as it can cause you to feel dizzy, especially in the first three months of use, you need to be especially cautious.
Overdose
Little is known about overdosing on liraglutide. Few cases were reported in literature. Known symptoms include vomiting, nausea, and abdominal pain [4].
The life-changing complications from an OD can be devastating, so heed any warnings and beware of large doses. Contact a doctor urgently in case of overdose.
Reviews of Saxenda by Australian patients
This weight loss assistant has predominantly good reviews.
Frequently Asked Questions
The Q&A section below would be useful for you, but if you have any doubts, you need to consult your GP.
How long does Saxenda stay in your system?
Liraglutide has a half-life of about 13 hours. This means that a half of the active substance is eliminated from the body within this time. According to some experts, it might take about 3 days after the last injection of the medicine to completely leave the body.
Is Saxenda the same as semaglutide?
No. This medicine contains liraglutide, while semaglutide is contained in Ozempic and Wegovy.
Are there any side effects of stopping the use of Saxenda?
This medication is not addictive, so you won't experience any withdrawal symptoms. Some people may experience nausea or sickness, as well as feeling more hungry, due to the end of the medicine's effect. But if you finish the therapy, you will hopefully have formed healthier eating habits and exercise regimen, which will help you to cope with potential problems.
What needles should be used?
The pre-filled pens are intended to be used with NovoFine needles (max length is 8 mm). They aren't included into the product kit, however, some sellers may add them. You need to have a consultation with your doctor or nurse to decide which width and length of needle would suit you best.
Stopping Saxenda suddenly – is that possible?
If you want to stop administration of weight loss pens, you need to consult your prescriber first. They will assess several factors, like time of administration, current dosage, effectiveness of the treatment, presence of side effects, achievement of your slimming goals, etc.
Theoretically, you can stop using Saxenda abruptly, as the medicine (as said above) does not cause dependence, however, this is still not advisable without prior consulting a doctor.
Are there any foods to avoid while on Saxenda?
There are no specific foods you should obligatorily avoid, however, there are undesirable products, which may hinder your weight loss efforts. These include:
sugar-sweetened beverages;
fast food, such as burgers, nuggets, French fries etc.;
processed foods;
foods which contain high amounts of trans fats or saturated fats.
How to store the medicine?
It is important to store Saxenda properly in order to ensure its medicinal capabilities.
Will it be properly delivered?
Yes, the supplier complies with storage conditions upon delivery. This specialized healthcare portal services the entire country, from Adelaide to Cairns, Port Headland to Hobart.
Sources: